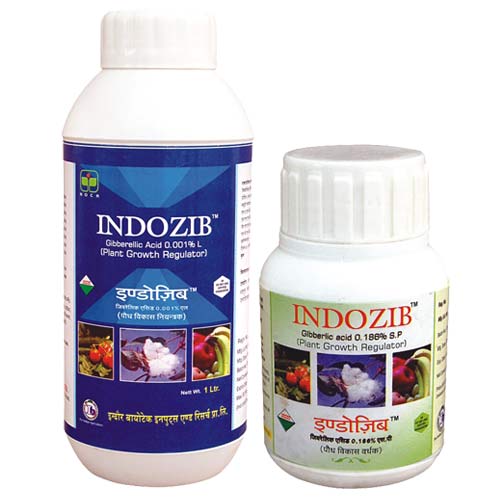 PLANT GROWTH PROMOTERS
INDOZIB™
INDOZIB is a water soluble powder formulation as well as liquid formulation of Gibberalic acid. It improves crop quality through better retention of flowers, enhancing the size, color & flavor of fruits. INDOZIB Plant Growth Promoter initiates this through its growth regulation activity enhancing cell division, cell elongation and accumulation of cell metabolites. It acts synergistically with plant metabolism and accelerates the growth functions of plant.
Packing
Powder - 50gms, 250 gms, 500 gms
Liquid – 100 ml, 250 ml, 500 ml, 1 lt, 5 lts
Method of application
Spray - 53.25-71 gm in 375-500 lit water for 1 hectare or 1 ml/lit liquid INDOZIB for 1 acre.
Recommended crops:
Paddy, Cotton, Sugarcane, Banana, Cabbage, Cauliflower, Grapes, Brinjal, Lady Finger, Groundnut, etc.