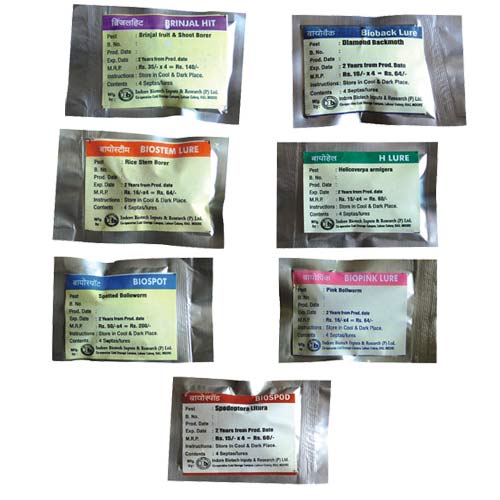 BIOCONTROL AGENT
PHEROMONE TRAPS AND LURES™
The Pheromone Traps & Lures are mechanical devices that catch the grown up stages of nocturnal insects which spread the population of crop-damaging larvae and caterpillars. The lure is installed inside the Biotraps. Pheromone Traps & Lures catch and collect male moths of destructive pests. Pheromone Traps & Lures are boon to farmers for monitoring insect activity and population, and thus can be termed as the best and timely plant protection method.
Packing
4 lures per pouch
Method of application
1-4 Traps are recommended for 1 acre.
Target Pests:
Helicoverpa, Spodoptera, Pink bollworm, Diamond black moth, Fruit fly, Stem borer and Brinjal borers.
Lures with Pheromones of different insects:
1. Brinjal hit™ - Brinjal fruit and shoot borer (Leucinodes orbonalis)
2. Bioback™ - Diamond back moth(Plutella xylostella)
3. Biohel™ - Gram pod borer (Helicoverpa armigera)
4. Biopink™ - Pink boll worm (Pectinophora gossypiella)
5. Biostem™ - Rice yellow stem borer (Scirpophaga incertulas)
6. Biospot™ - Spotted bollworm (Earias vitella)
7. Biospod™ - Tobacco caterpillar (Spodoptera litura)