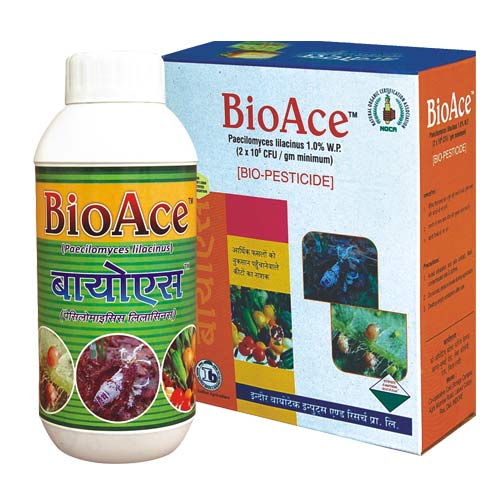 BIO NEMATICIDE
BioAce™
BioAce is a formulation of advanced strain of Paecilomyces lilacinus which attack crop damaging nematodes in their second instar stage. It has the ability to colonize the eggs of wide range of harmful nematodes. The spores of this fungus acts by infecting and parasitizing the eggs, juveniles and young adults of most phytophagous nematode species. When the spores of Paecilomyces lilacinus comes in contact with different stages of the nematodes, they germinate, grow and proliferate throughout the body eventually paralyze them which leads to their death. BioAce Nematicide can control a wide range of nematodes like root knot, cyst nematode, reniform nematodes and stunt nematodes.
Packing
Powder - 250gm, 500gm, 1 kg
Liquid – 1 lit
Method of application
Soil Treatment
50 gm per square meter or 2 lit of Bioace in 50-100 kg FYM and broadcast in one acre field or 30 ml Bioace per square meter.
Seed Treatment
Make slurry of 10gm powder formulation with sufficient water or 3-5 ml liquid formulation. Mix the 1Kg seeds well in slurry and shade dry it for half an hour before sowing.
Nursery Treatment
50 gm per square meter.
Drip application
2 lit of formulation in drip tank containing water for one acre.
Recommended crops:
Capsicum, Tomato, Brinjal, Onion, Chilies, Okra, Tuberose,Banana, Papaya, etc. Also used for ornamental, forest and horticulture crops etc.